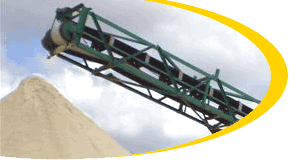 Quality and Value
The Geelong Lime product range includes: aglime, packing and brick sand, and 50mm minus road base. We also manufacture blended lime products.
Aglime
Geelong Lime Aglime is a natural ground, coral-based, friable limestone that is produced with both quality and value in mind. It is ground finely to insure a good result in varying soil types and is suitable for both incorporation and top dressing for cropping, pastures and horticulture. Geelong Lime is easy to tip and spread, which makes handling a breeze and ensures a good, even coverage.
Sands
Sands are produced for the building and construction industry but are also suited to equine applications - our famous arena sand is used in many local horse arenas. Our brick sand is white, making it particular suitable for usage with natural stone such as limestone or for a white mortar when mixed with white cement. Our packing sands can be used for all pipe work and under slab preparation.
Road Base and Mixtures
We also have 50mm road base for sale for use on tracks and in feedlots as well as links to gypsum and trace element mixture.